Trade winds blowing favorably for China
Trade winds blowing favorably for China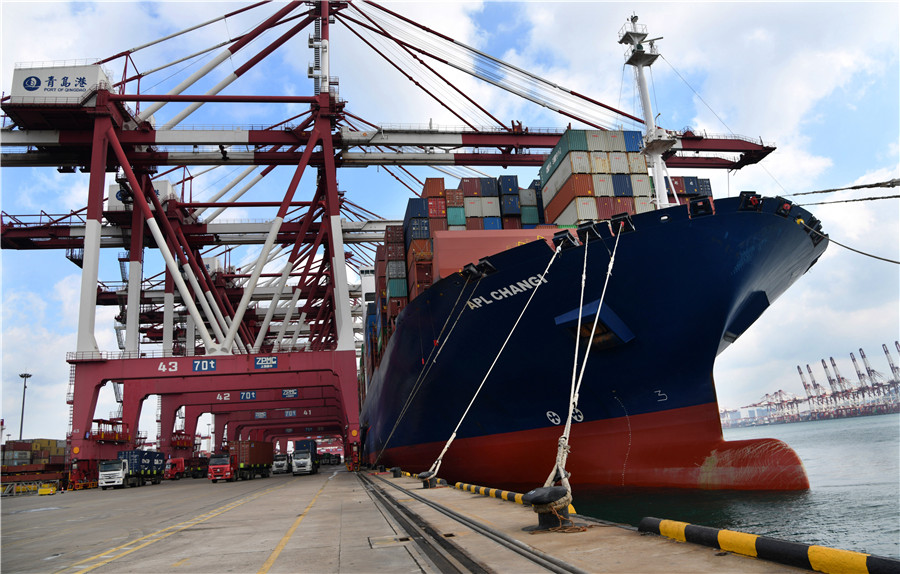 Global investors still confident on investment, consumption potential
Global capital, talent, services and manufacturing businesses will continue to move eastward, especially to China, in the post-COVID-19 era, though the world will still have to deal with uncertainties such as protectionism and unilateralism, experts said on Tuesday.
They made the remarks as China saw its foreign trade and ability to attract foreign direct investment rebound during the second quarter of this year, indicating the country's early economic recovery, complete industrial chain, consumption potential and fast-growing digital economy have helped put its business growth on a firmer footing despite the global COVID-19 pandemic.
China is the world's largest consumer market, with 400 million middle-income people and a large number of rural residents with strong purchasing power, who are increasingly pursuing better life and services, said Wei Jianguo, vice-chairman of the China Center for International Economic Exchanges.
He said this explains why multinationals have not withdrawn from the country. Instead, many of them, including BASF, BMW, Nestle and Coca-Cola, have increased investment in China as they believe that investing closest to the major consumer base is the cheapest and most efficient way to compete with other established rivals in this market.
Thanks to global investors' rising confidence, China saw FDI rise 8.4 percent on a yearly basis in the second quarter of the year. In June, FDI inflows expanded 7.1 percent year-on-year to 117 billion yuan ($16.73 billion), the Ministry of Commerce said.
Apart from the involved countries' efforts to seal the Regional Comprehensive Economic Partnership within this year, Wei said the European Union is capable of coping with the pressure created by the United States and signing a high-level bilateral investment agreement with China before the end of this year. It will bring abundant benefit to both sides and the global economy, he said.
Nouryon, the Netherlands-based chemical manufacturer, said earlier this month that it will build a new plant in Ningbo, East China's Zhejiang province, to produce tert-Butyl hydroperoxide and tert-Butyl alcohol, essential ingredients in the production of polymers and composites, and two key intermediates in its organic peroxides business. The manufacturing facility is scheduled to be completed in the second half of 2021 and will have an annual capacity for 35,000 metric tons of TBHP and TBA.
"This is an important step in integrating our regional supply chain for TBHP, which is currently imported," said Johan Landfors, president of technology solutions at Nouryon. "Demand for TBHP and TBA continues to rise in Asia, and our new facility will ensure that we can meet that demand for years to come."
He said the new facility represents a significant investment for the firm to build its presence in fast-growing markets. It also underlines its focus on working with local partners.
With the Chinese and Cambodian governments jointly announcing that they have concluded the China-Cambodia Free Trade Agreement (FTA) talks on Monday, Xu Ningning, executive president of the China-ASEAN Business Council, called on the government and companies to further diversify their cooperation methods and investment channels with member states of the Association of Southeast Asian Nations.
Because the ASEAN has signed a number of free trade agreements with many developed countries and some of the bloc members enjoy the Generalized System of Preferences treatment, a duty-free treatment given to goods of designated beneficiary countries, investing in Southeast Asia will offer Chinese firms a broader access to overseas markets and help cut trade friction, he said.
As a next step, the government should introduce new policies to support China's exports of manufactured goods-produced by both domestic and foreign companies, to become a vital stabilizing force in the global economy, said Dong Yu, deputy dean of the China Institute for Development Planning at Tsinghua University in Beijing.
It is also necessary to expand imports to stabilize the confidence of foreign suppliers, invigorate the effective supplies from the overseas markets, he said.